The GeekWire Summit 2023 was a captivating exploration of how AI is bringing real change to various industries. From thought-provoking discussions with industry leaders to thought-provoking insights into the ethical use of AI, the event shed light on the transformative potential of artificial intelligence. In this blog, we'll delve into the key takeaways from the summit and how AI is shaping the future of businesses, education, and beyond. 
AI: Revolutionizing Efficiency and Reshaping Employment
The GeekWire Summit 2023 was a hub of inspiration, with prominent figures like Bridget Frey, Inbal S., and David Shim from organizations like Redfin, GitHub, and Read AIshowcased how they are harnessing the power of AI and technology to drive change within their organizations from enterprise giants to nimble startups. 
Business & Strategy: Solving Real Problems with AI
In the "Business & Strategy" panels, luminaries Charlotte Yarkoni, Diego Oppenheimer, and Gaurav Oberoi from Microsoft, Factory, and Lexion respectively, shared invaluable insights. They stressed the importance of addressing fundamental questions: "What problem are you solving?", "What is the value proposition of your solution?", and "Is AI the true solution?" This strategic approach ensures that AI is used where it truly adds value. 
AI's Tangible Impact: From Agriculture to Off-Road Driving
The GeekWire Summit featured compelling examples of AI's tangible impact. Innovations like Pollen Systems in the agricultural industry and autonomous off-road driving by Overland AI showcased the potential of AI to help humans achieve productive results. AI isn't just a concept; it's a reality that's making a difference across various sectors.
AI in Entertainment: "Arrival" in Seattle
The presence of Eric Heisserer, the Oscar-nominated writer and filmmaker of "Arrival," added prestige to the event. Attendees were treated to a special screening of the movie in the iconic Cinerama theater of Seattle. This showcased how AI has a role to play in the entertainment industry, not only in content creation but also in enhancing the audience's experience.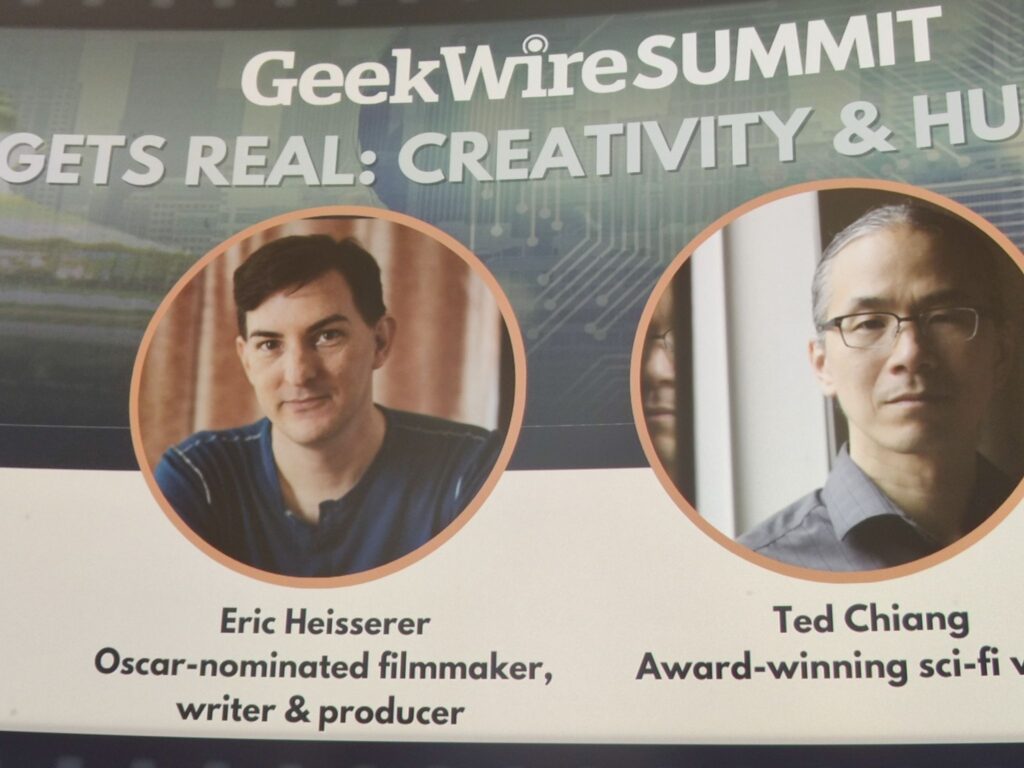 AI as a Positive Force for Change
The GeekWire Summit 2023 highlighted that AI is following in the footsteps of past disruptors like MainFrame, PC, Internet, and Mobile technology. The key takeaway was that, with the right regulatory policies and a shared commitment to improving humanity's quality of life, AI can be harnessed as a force for positive change. The event emphasized the need for a harmonious relationship between technology and ethics. 
Closing Thoughts
The GeekWire Summit 2023 was a testament to the transformative power of AI. As businesses, educational institutions, and various industries embrace AI, it's clear that the future is being shaped by this revolutionary technology. The key is to harness AI for the betterment of society while being vigilant about ethical and responsible use.
At AffableBPM, we are enthusiastic about the opportunities that AI offers to enhance efficiency in industries like Healthcare, Education, and Non-Profit. How do you envision using AI in your field? Share your thoughts and be part of this exciting journey into the world of AI.