In the ever-evolving landscape of healthcare technology, innovative solutions are paving the way for increased efficiency, compliance, and improved decision-making. Recently, our CEO, Rajashree Varma, had the privilege of sharing our story on the biggest partner platform of Microsoft, Inspire 2023, to discuss the role of AI in healthcare, and the partnership with Microsoft's ISV Success program. Following were some of the conversations Raj had with Microsoft.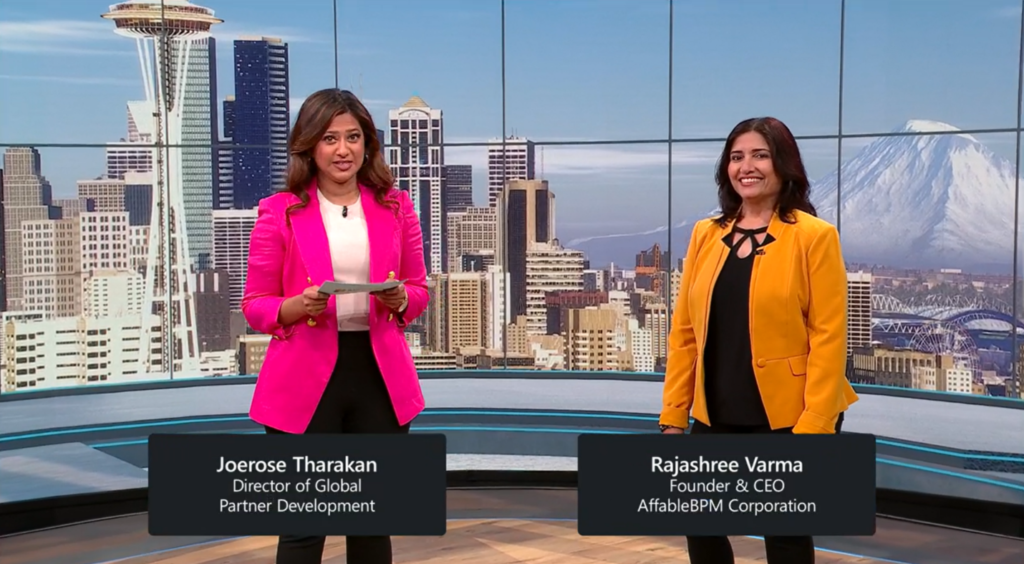 An Insight into AffableBPM and Its Place in Microsoft's Marketplace
AffableBPM Enterprise is a SaaS solution designed to automate manual processes within healthcare back-offices. The solution not only enhances efficiency but also reduces compliance risks while providing access to unified cloud-based data. What sets AffableBPM apart is its support for UN's SDG goals pertaining to ESG (Environmental, Social, and Governance) initiatives while delivering rapid ROI (Return on Investment) for its customers. In a short duration since its inception, we are very proud that we have been to help Mother Earth by saving 45 tonne of paper and hence preserved 765 trees, 63,000 liters of oil and 1.2 million liters of water.
AffableBPM is HIPAA compliant which ensures the utmost security for sensitive healthcare data because of its integration with Microsoft Azure. Additionally, the company has garnered recognition for its ESG efforts, making it a B2B Rising Startup Award for the Women in Cloud industry awards.

Our most important strategy to Go-To-Market is via Microsoft's Commercial Marketplaces. With Azure/App Source Marketplace's worldwide reach, AffableBPM has been able to improve visibility for its solutions to not only partners but also millions of customers worldwide. AffableBPM is able to explore various coselling opportunities with not only 35,000 of Microsoft's sellers but also 400,000 + partners in the partner ecosystem. Take a listen for the entire conversation around this topic HERE.
The Role of AI in Transforming Healthcare Processes
The conversation naturally shifted towards the integration of AI in AffableBPM and how participation in Microsoft's ISV Success program has played a pivotal role in leveraging AI in app development. Despite the healthcare industry's slow adoption of digital transformation, AI has the potential to accelerate this process significantly as per our CEO, Raj.
Raj explained that adding AI to AffableBPM's workflow automation enhances efficiency and productivity, reduces manual errors, benefiting both the company and its clients. With Microsoft tools such as Azure Form Recognizer, Copilot, and ChatGPT we have been able to bring the power of AI to healthcare customers.
Being part of ISV Success has been invaluable for AffableBPM, as it provided technical guidance from Microsoft experts, enabling the effective use of AI technologies in our solution. Check out the complete discussion HERE.
AI's Impact on AffableBPM's Performance
Raj highlighted a specific use case where AI has significantly impacted AffableBPM's performance and user experience. The Data Importer module utilizes Azure Form Recognizer to analyze and extract key information from documents such as invoices, forms, and contracts. It automatically identifies critical details, such as customer names, billing addresses, due dates, and amounts due, producing structured data in JSON format. This feature eliminates the possibility of errors and the need for manual data entry or document labeling. Data Importer Module has improved productivity by more than 60%, setting AffableBPM apart from its competitors. Check it out here for in-depth conversation.
Explore Further:
Check out all the SAAS solutions from AffableBPM on
Photo Gallery
Check out some behind the scenes fun