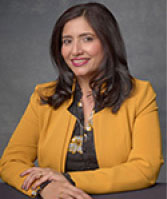 Rajashree is a serial entrepreneur as a driven empathetic executive leader with 23+ years of software industry experience in founding multiple software products,solutions, and IT consulting companies. Accomplished domestic and international expertise in product roadmap, delivery, sales, and alliances to achieve growth for startups as well as established enterprises.

She worked at Microsoft in different roles starting as a developer to Architect Evangelist and later founded a software consulting company as niche Microsoft AI – Arth Systems. She successfully got her company acquired by Xoriant – Xoriant Announcement . She created a huge multimillion dollars sales pipeline via a Microsoft partnership.

She is a recipient of different awards – Trailblazer Award, Trailblazer PR, WBE Star 2020 Award , News, WBENC PR PRNewswire.

Rajashree has served on the board of directors for CloudGirls, part of the leadership team on WBEC Pacific and as an industry mentor at Ada Academy to help students on how to connect, step in and advance into the technology industry.
She is very passionate about hiking, yoga, and mindfulness meditation! She lives in Sammamish (near Seattle), WA with her husband and two daughters.